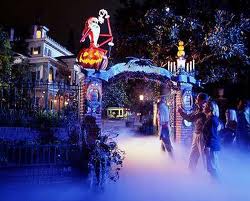 JACK'S HAUNTED MANSION BY. D&d duck based on disneyland's the haunted mansion holiday.
Although the previous year had been a disaster for the pumpkin king, jack skellington never left well enough alone with his holiday, he always tried new things to make halloween better.
one day while he was walking down the square he noticed something odd, a door which there had never been. a cellar door.
jack not help his curiosity he ran to the cellar door with zero (his ghost dog) next to him and stepped in.
he was in what looked like an endless hallway, he could see a candelabra floating, he did find an end the next room he found was most peculiar, a crystal ball! that talked!
         continued soon

Ad blocker interference detected!
Wikia is a free-to-use site that makes money from advertising. We have a modified experience for viewers using ad blockers

Wikia is not accessible if you've made further modifications. Remove the custom ad blocker rule(s) and the page will load as expected.